In My Mailbox is a weekly meme hosted by The Story Siren. It's a way to share the books I've gotten during the week and to receive comments from fellow readers…
Who knows, maybe one of my books will be your next read!
I'm always looking for more books, so please leave your IMM link in your comment!
Happy Reading! :)
Well first let me say how sorry I am for the the lack of posts these past few days. Been busy with birthday celebrations, work, grand openings and Occupy Wall St... and wow- that was only 3 days! Crazy tired.
Okay so on to this week's Mailbox goodies! Still holding back on buying since I've reached a reading block and it's taking me a lot longer to finish a book than usual. Oh well... never rush a book.
Spellbound
by Cara Lynn Shultz -- I had this on my TBR list for awhile, but I couldn't remember why exactly. All I could gather was that it's set in New York and I have a curiosity about how it's portrayed.
Anna and the French Kiss
by Stephanie Perkins -- Part 2 (or part 1 if this was delivered with the Lola) of
Michele
's birthday gift to me! YAY! I might start this soon since I'm in need of something light after all the dark stuff I've been reading.
And another week where I got something signed! This time in the mail- Leigh Fallon, the author of The Carrier of the Mark had a bookshop hop on the release of her book and whoever sent her a picture of themselves with the book got a sign bookplate! Got my mine today along with two signed bookmarks! I was also happy to see that it was postmarked on my birthday! Nice.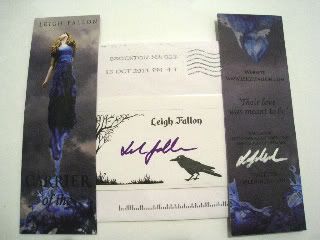 Speaking of birthday, I still have to announce the winner of my Birthday Bash Giveaway... I will do that VERY soon!