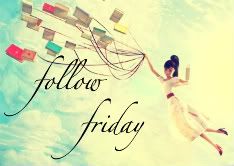 Follow Friday is a weekly meme hosted by Rachel of Parajunkee and Alison of Alison Can Read. A great way to meet fellow bloggers and get new followers!
When you've read a book, what do you do with it? (Keep it, give it away, donate it, sell it, swap it...?)
I usually buy my books, so I always end up keeping them. I hardly ever even loan them to anyone because I'm afraid they're going to ruin it- so far my sister is the only one that I can trust to keep them in perfect condition... her 6yr old son also knows very well not to play with my books! I scare him. LOL!