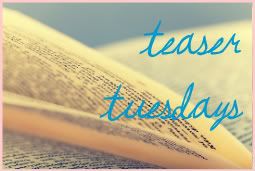 Teaser Tuesdays is a weekly bookish meme, hosted by MizB of Should Be Reading. Anyone can play along! Just do the following:

• Grab your current read
• Open to a random page
• Share two (2) "teaser" sentences from somewhere on that page
• BE CAREFUL NOT TO INCLUDE SPOILERS! (make sure that what you share doesn't give too much away! You don't want to ruin the book for others!)
• Share the title & author, too, so that other TT participants can add the book to their TBR Lists if they like your teasers!

I have just a short amount of time before I have to head out and since I've been procrastinating on my reviews and really just posts in general, so I wanted to make a quick post with my first Teaser Tuesday!


"
We laughed about all the kids who believed in the Santa myth and got nothing for Christmas but a bunch of cheap plastic toys. "Years from now, when all the junk they got is broken and long forgotten," Dad said, "you'll still have your stars."
"
-Page 41;
The Glass Castle
by Jeannette Walls
"
With his free hand he brought the baton right in front of my face, so that I nearly went cross-eyed staring at it, and then he smacked me once, right in the throat
.
I couldn't breathe.
"