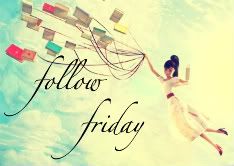 Follow Friday is a weekly meme hosted by Rachel of Parajunkee and Alison of Alison Can Read. A great way to meet fellow bloggers and get new followers!
What is your biggest pet peeve when it comes to books? Maybe you don't like love triangles or thin plots?
I would say my biggest pet peeve would be redundant plots and characters- average girl meets hot out of her league boy who fall madly in love for each other but not without a few mishaps along the way... but don't worry, things will work out by the end of the book... or in the sequel.
At least that's how I feel about a lot of plots and ironically I will find myself still reading (and enjoying) these books! LOL! I know it's hard to be completely original, but I suppose that's why I lean away from contemporary fiction and go for fantasy fiction where the story can go anywhere and the redundant plot/characters are somewhat pushed aside.
...Hm so not really a pet peeve afterall, but it's hard for me to really hate something that creatively came from a literary mind.