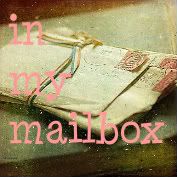 In My Mailbox is a weekly meme hosted by Kristi over at The Story Siren.
I'm still on my book-buying ban, but of course I couldn't help myself. I only got two books this week and I got them both from a seller off the street for $3 each. All books need a home!
Title: Fallen
Author: Lauren Kate
Genre: Young Adult, Fantasy, Romance
According to many of you wonderful people on goodreads, this seems to have some mixed reviews, but overall decent so I wanted to give it a shot. Also it's rare that I see any YA books on the street so I wanted to take advantage of it...Oh and I love the cover!
Title: Way of the Peaceful Warrior
Author: Dan Millman
Genre: Self-Help, Inspirational
Barnes & Noble | Book Depository | Goodreads

I started this book more than 10yrs ago as a recommendation from my brother and sister. Unfortunately I didn't finish it for one reason or another, but I'm willing to give it another shot.